A Matter of Money - Anna Grue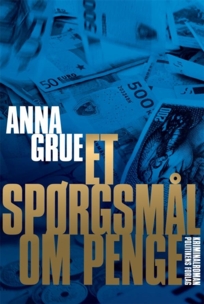 Et spørgsmål om penge
A Matter of Money
Vol. 5

Politikens Forlag, 2012
419 pages
Summary
Volume five of the Dan Sommerdahl series is a tightly structured, classic crime novel with plenty of side stories and plots linking the length and breadth of the book.
The story takes place at a large construction company, where one of the owners, the multi-millionaire playboy Peter Münster-Smith, is found stabbed to death in the headquarters' rear building, which is under renovation. Every employee - from the company's co-owner to the workers – become embroiled in the investigation.
When Benedicte Johnstrup, the company's seductive head of communications discovers that the police suspect her husband of the murder, she hires the bald detective - and then things really get moving. Cocaine, corruption and lots of ladies. It's a case for Dan Sommerdahl.
Reviews
Anna Grue writes like a true expert of the human character, with such a verve and a twinkle in her eye, that the pages turn themselves.
- **** Ekstra-Bladet
There is something almost Agatha Christie-ish over Grue's meticulous care to bind the details properly to the big picture - it's deeply satisfying to follow, and another plus is her usual flair for almost theatrical dialogues, as well as her great understanding in the field of human psychology . [...] Of course, Anna Grue in complete control of the genre's diverse maneuvers and relentless logic. I take my hat off for Grue and her bald detective - a powerful duo on the Danish crime scene. - Weekendavisen
'A Matter of Money' is a crime novel entirely after the classic pattern, with the crime mystery at the center. The investigating is the focal point, with the amount of information about the private and social, we need to have in order to keep the plot engine at high revs, but without these things prevail. [...] It is [...] a blessing in a time when the genre is hard driven by a lot of different agendas.
- **** Jyllands-Posten

The writer is back in top form with her usual focus on good dialogues, a high and sustained level of suspense, a stringent plot, all together a well-worked out book. [...] If you have read Anna Grue's previous four novels in the series, you will immediately feel at home in the cast - a bit like meeting good old friends who are both exciting and entertaining to be with. [...] can easily be read as separate books, without reducing the entertainment. And, in his usual style as everybody's friend - the book's main character, Dan Sommerdahl, is left in a place where his private 'loose ends' can easily be brought forward in another book. So I guess we can hope for yet another entertaining and exciting volume?
- ***** Jydske Vestkysten (starred review, five out of six
Anna Grue - Author of the Dan Sommerdahl Series