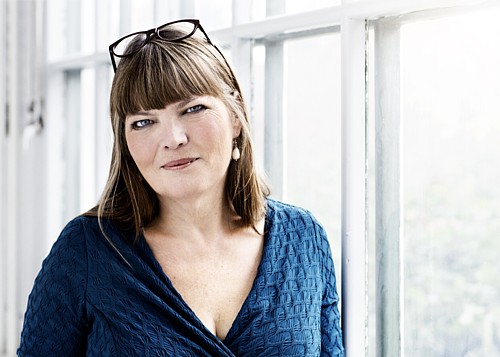 Anna Grue's career has seen plenty of twists and turns.
After completing her training as a graphic designer (Danish Design School 1977-81), she worked for five years as a layout editor for 'Illustrated Science' and the lifestyle magazine 'Bo Bedre', amongst others. In 1986 she followed her desire to work with words by becoming an editing journalist – first at the Danish newspaper, BT, where after a short time she became front page editor, and later working as editor at magazines as diverse as the music magazine 'Mix', the parents magazine 'Forældre & Børn', the fashion magazine 'Bazar' and the lifestyle magazine for dog lovers, 'Vi med Hund'.
Perhaps not quite the career path you'd expect would lead towards a life as a writer. But throughout all those years, deep down, that was exactly what she dreamt of.
Always a reader
Anna Grue has always been an avid reader. Already at the age of eight, she was given special dispensation to get a library card, two years before her fellow classmates. She dragged home piles of books home and swallowed them up without ever considering whether they were suitable for her age or not. A beautiful array of authors including Charles Dickens, Mark Twain and the Danish writer, Hans Kirk, along with Astrid Lindgren and various children's detective series. Three or four books a week. At least. When ten-year-old Anna once visited a lady who owned a complete collection of Agatha Christie crime novels, she was hooked. From that day onward, her bedroom was always cluttered with detective novels by Maria Lang, Dorothy L. Sayers, Ngaio Marsh and many more. Every single volume was devoured twice, three times, a dozen times.
Today, her urge to read is undiminished, though the pace has slowed a little. One novel a week, maybe two. Crime fiction makes up only a small part of her total intake, and you'll find neither sadistic serial killers, hard-boiled gangsters or great political intrigues on her reading list: Anna still prefers the classic crime mysteries that take their inspiration from the British tradition, where the focus is on a good psychological plot. Kate Atkinson, Denise Mina and Peter Robinson: modern crime writers producing top-notch literary work, writing against an established tradition challenging the template without losing respect for it.
"Want to write a novel, do it now"
But Anna Grue did not just read fiction. Over the years, in one demanding job after the other, she secretly wrote down episodes, scenarios or actual plot ideas. She kept those notes well hidden. There was simply no time to write, she thought. At any rate, her family depended on her salary. It was only in the wake of a stress-related depression, after speaking with a psychologist, that she got started on her writing. It was bluntly put to her that it would be foolish to wait for retirement to start writing. "If you want to write a novel, do it now," he said.
No sooner said than done. Her first book, 'Noget for noget' ('Something for Nothing') was released in 2005 and received the prize for the best debut novel from the Danish Crime Academy. The following year her second novel came out, 'Det taler vi ikke om' ('We Don't Talk About That') and from that point onwards, there was no turning back. She enjoyed writing so much that all reasonable arguments regarding a fixed salary, pension and company car faded into the background.
In February 2007, Anna Grue became a full-time writer and began her crime series about Dan Sommerdahl, the Bald Detective. She hasn't regretted it for a moment. Anna is currently writing volume six and there are more to follow. A collection of short stories, 'De andre' ('The Others') was also published in 2011; everyday stories with an edge, though without any crime plots.
Artistic family
In her private life, Anna Grue is part of a proper artistic family. Her husband of thirty-five years, Jesper Christiansen, is an accomplished painter and her three adult children are, respectively, a theatre director, a painter and an illustrator. Lively discussions on art, literature, music and film are common around the dinner table, a good foundation for Anna Grue's work as a member of the advisory board for the arts and entertainment TV programme, 'Smagsdommerne'.
Otherwise, Anna's four grandchildren – a nine-year-old, a six-year old and a set of newborn twins – form an important part of her life, as do her two spoiled cocker spaniels, her large circle of friends and her garden. But when it's time to write, Anna disappears for long periods, abroad or to her peaceful cottage in Odsherred, north of Copenhagen, where she turns off the phone, turns off the wi-fi and gets started. And for Anne Grue, it doesn't get better than that.
Spring 2013